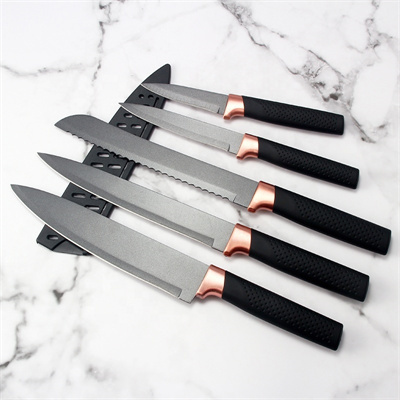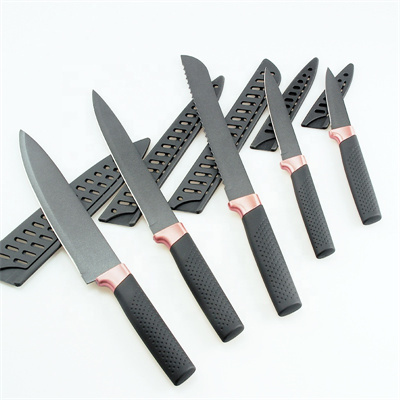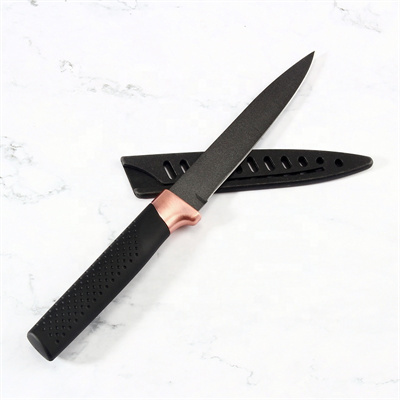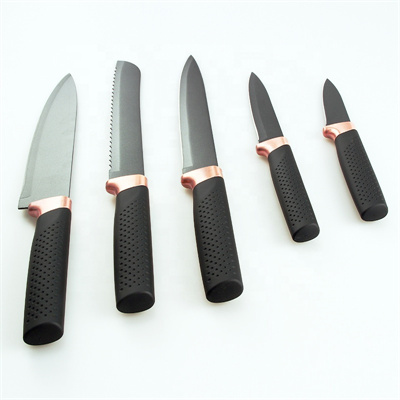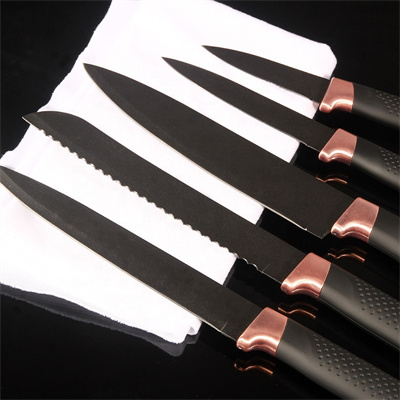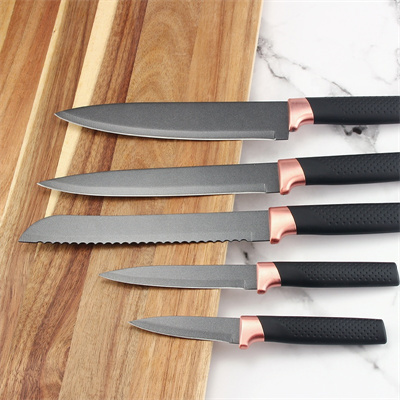 Product description
| | |
| --- | --- |
| Product name | Knife Set |
| Season | Everyday |
| Room Space | Kitchen, Closet, Dining Room, Outdoor |
| Design Style | Modern |
| Blade material | 420J2 |
| Handle material | 430#Stainless steel+ABS |
| Usage | Kitchen Cutting Foods |
| Application | Home Restaurant Hotel |
| Color | Any color can be available |
| Sample time | 5-7 working days |
| Logo | Custom logo |
| Packing | Custom Packing |
| Feature | Sustainable |
How to choose a knife set
1. Looking at the steel of the knife, it is very simple to distinguish whether the steel of the knife is good or not. You can tap the blade of the kitchen knife with your finger and listen to the sound. The steel material of a good kitchen knife has a clear and pleasant sound when knocking, and the sound is long-lasting, very pleasant. On the other hand, a knife made of a bad steel design sounds as heavy as a brick. It sounds like a brick. If you use this kind of steel The general material of the tool is relatively poor. Hearing arguing knife has always had a way of distinguishing in ancient times.
2. Anyone who has used knives knows that the sharper the blade, the easier it is to decompose food. Therefore, when choosing a tool, you should check whether the blade of the tool is sharp, straight, and not chipped. There are many types of knives on the market at present. If divided according to the material, they can be roughly divided into steel, stainless steel, carbon steel, ceramics, etc., in fact, it is not that the higher the hardness, the higher the sharpness. Because the "fastness" of a kitchen knife also depends on the degree and softness of the cutting edge.
3. Many people often pay attention to the sharpness of the blade when purchasing, but ignore the more important aspects. That is the handle. The handle is the part that is in direct contact with the hand, and its quality is directly related to the comfort of use. In terms of tool handles, the main materials are wood, engineering plastics, steel handles, etc., each with its own advantages. Generally speaking, stamped and formed kitchen knife handles are better and more refined; traditional forging knives use wooden handles (mostly round handles). Now some traditional knife manufacturers have begun to sell kitchen knives with other handles.